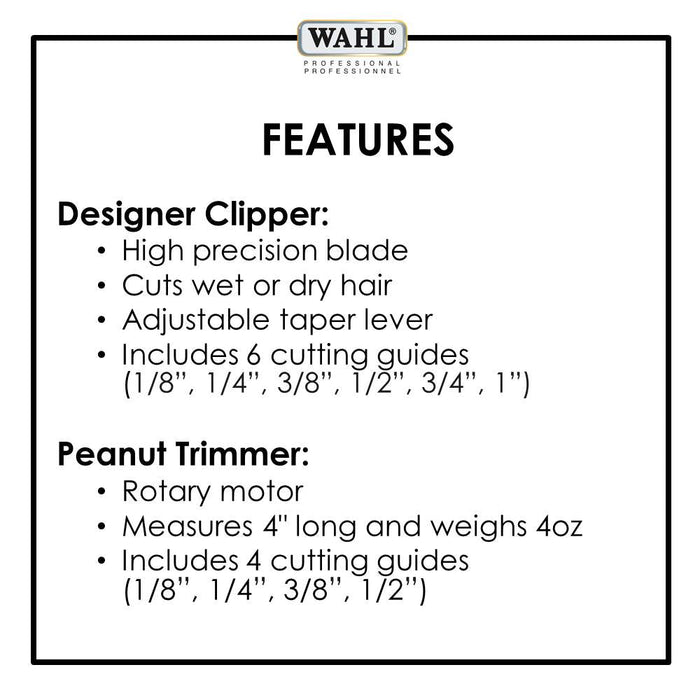 WAHL Burgundy Designer Clipper and Classic White Peanut Trimmer Professional All Star Combo (980g)
Two of our top-selling products have come together to form an All-Star Team.
DESIGNER Black Clipper: Electromagnetic corded clipper with V 5000â"motor. Twice the speed of pivot motor clippers. Adjustable lever varies the taper and texture of the cut without changing the blade. Cuts wet or dry hair. Powerful yet cool running. High precision carbon steel blade for high-performance clipping.
Classic White/Black PEANUT trimmer: Premium corded trimmer with a rotary motor. Has all the power of a full-size clipper. Ergonomic and light in weight. For cutting work and precision detail finishing. High precision ground carbon steel detachable Snap-On and snap-off trimmer blade.
Key Features:
The perfect corded Wahl combo
Electromagnetic clipper with 5000 V motor
Premium corded trimmer
Light in weight
Kit Include:
Standard Designer Clipper
Clipper Blade Guard
6 Red Clipper Guides
Classic white/Black Trimmer
4 Red trimmer Guides
Trimmer Blade Guide
Cleaning brush
Oil
Operating Instructions