Scalpmaster
Scalpmaster lightweight hair shaper is perfect for blending, texturizing and special effects. It Includes hair shaper, stainless steel blade and 4 ...
View full details
Scalpmaster
The Professional Hair Shaper is a product from Scalpmaster's signature line of professional-grade barbering tools, ideal for thinning hair and maki...
View full details
Scalpmaster
9 row, 4-3/4" oval palm brush with nylon reinforced boar bristles and a natural wood, high gloss finish.
Scalpmaster
This Scalpmaster box contains 100% stainless steel replacement blades.  The blades provide an impeccable finish with each use and are compatible wi...
View full details
Scalpmaster
Uniforms like this Scalpmaster Barber Jacket are excellent for working barbers. The polyester and cotton jacket has a zipper front closure for ease...
View full details
Scalpmaster
Scalpmaster offers this classically inspired Italian Style Barber Jacket. It features two standard pockets and an additional breast pocket for easy...
View full details
Scalpmaster
This Scalpmaster Hair Design Pencil Set includes eight black colouring pencils, purposed for filling in hair designs or any service your business p...
View full details
Scalpmaster
Unlike real customers, the Jake mannequin won't complain when you cut too much off of one side or another. This mannequin is an ideal for practisin...
View full details
Scalpmaster
Bristle Type: Boar/Nylon Handle: Military (9 row, 4-3/4 inches) Hair Type: Medium The Scalpmaster Oval Palm Brush is crafted with nylon bristles...
View full details
Scalpmaster
Solid, 100% stainless steel blade provides a close, smooth shave without irritation. Measures 6-1/2″ long when closed; 10″ long when open.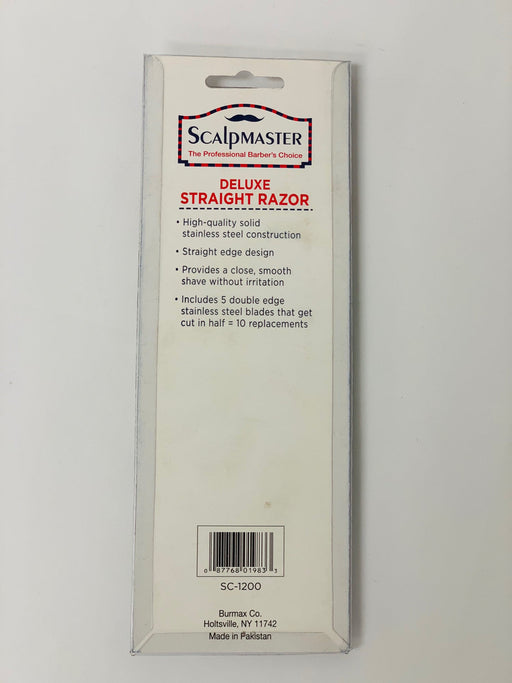 Scalpmaster
SCALPMASTER Deluxe Straight Razor SR-SC1200 100% Stainless steel razor provides a close smooth shave without irritation.  Features a straight edge ...
View full details
Having been in the grooming and beauty business since 1948, Scalpmaster has established itself as one of the pre-eminent hair care and general grooming brands on the market.
From Flat Top combs (with levels) to saw-cut combs and a wide variety of hair brushes, Scalpmaster has never deviated from its central focus of crafting and refining products that are exclusively for hair care and this is reflected in the company's reputation.
Want to know what popular items barbers add to their orders when shopping for Scalpmaster products on BarberSupplies.com? Here they are: Speed-O-Guide Clipper Guards, Bluebeards Original Beard Saver, Lucky Tiger Aftershave, Dukai Neck Strips and British Barbers Association Finishing Pomade.
Scalpmaster tools are some of the best a barbershop can expect, but they are also very popular for home use and many savvy barbers are picking up on this and selling Scalpmaster products on a retail basis in their barbershops.
Sound like a good fit for your barbershop's retail counter? Feel free to hit up our sales team for a complimentary training on how to get the best results when marketing Scalpmaster products to your clientele.
About BarberSupplies.com: our company was established with a singular focus on helping barbershops and salons thrive by serving them with our five pillars:
All the barber supplies you need in one place

The lowest price promise

A premiere loyalty program

Free shipping on orders of $50 (based on weight)

Talk your way (you choose your preferred means of communication)
Please note - BarberSupplies.com only sells to professionals on a wholesale basis.